Here are a few of the most "popular" offerings, and their investments.
© Program
---
---
---

Four 1 Hour Sessions

(

$847 mo.)
Optimal for situational or circumstantial issues (coping strategies and triage) or when you're not quite ready for embarking on a journey of personal evolution. This doesn't involve weekly lesson plan style homework that works through a curriculum. You can address specific challenges in your life, gaining new resources, without an

operating system upgrade. Please

contact

Ian Blei

with questions, or to schedule.
---
---

Typical areas covered include:
Anger (liberation from)

Authenticity

Boundaries

Communications

Consciousness/Mindfulness

Creativity and Opening

Leadership/Power/Management

Personal Performance and Growth

Relationships

Self-Talk
You can read a full article on the Individual Transformation Course HERE.
---
---
HR Accelerator©
($147 per staff member)
An absolute Game-Changer for Management and Human Resources. A short interview with a staff member enables me to deliver a 11-12 page "manual" on that person to their manager, same day. What works or doesn't to get the best from them, how to best motivate, how they communicate, what their resources and challenges are, and more. Unanimous raves, as it makes managing and performance reviews a breeze, cutting time and effort, while increasing effectiveness and efficiency. And the staff loves how differently they're treated afterward.
---
Four different programs to choose from. Contact for pricing. 1 hour or 90 minute sessions, weekly or bi-weekly+ phone access (up to 1 additional hour per mo.)
Weekly 1 hour sessions: purchased individually
---
You can read a description HERE.
G.P.S.© Workbook plus up to 8 hours of on-site Process Consulting
---
Contact me with your questions, or if you'd like to schedule.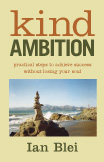 $15.95
FREE SHIPPING*
in Continental U.S.
*International please add $4.05
(average cost of shipping is $8.50 - so I'll split it with you)
Outside of Continental U.S. $20.00
"…A multi-million dollar deal was falling apart before my eyes. I started using Ian's communication tools and turned it around to close my biggest deal yet…"
--Jeff A.,
Independent Agent
Alameda, CA
Subscribe to "The Integram"