The Integram: an Integral Enneagram of Consciousness; a model of consciousness, including all aspects, for designing practical paths of personal development and evolution.
Quick Links: jump to any section

No time? Listen to the podcast (7:39 min.) in the background while you file, exercise, ride to work, etc.
Futility's Chase
(click for podcast) (7:39 min.)

Back in High School I wrote an ambitious progressive rock anthem called "Last Illuminations." Each movement addressed different facets of the same issue: what are you chasing? Why? What would be different if you had it? And what would be next? The last movement, Futility's Chase, really drove home the theme.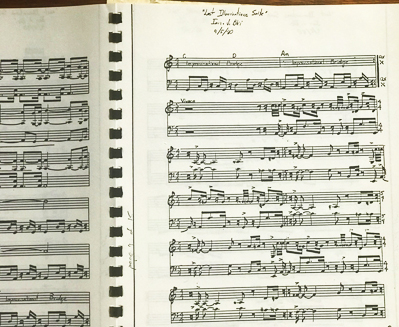 Ah, how seriously I took myself back then! And how ironic that my life's work has me asking clients the same questions today. Finding the real motivations hiding underneath our perceived motivations is at once a joyful "aha!" and disturbing "oh, man!" It's a phenomenal cross-road where we can make a significant, life-altering shift. Just by raising our consciousness around the deepest of our motivations, we can see how irrelevant they are to our lives right now.

So much of what drives our behavior is echoes and ghosts of our past that really aren't applicable anymore. We develop survival strategies when we're quite young, and forget to question them when we grow up. We look back on our younger selves saying, "what was I thinking?!" about almost everything except these old strategies.

The survival strategies of our childhood can become parasites to our adult dreams and goals. These aren't just any parasites; they're brilliant and successful ones. A really successful parasite not only doesn't kill its host, but convinces its host that it's there for the host's own good, and needs to be defended. These are the guys we need to root out of our hearts and minds.

Questioning "Reality"
By and large being in a position of not knowing isn't very popular. People prefer answers, and anyone who provides them are celebrated (often regardless of the accuracy or productiveness of those answers.)

Questioning things is often seen as some kind of dissention or challenge. This gets defended against, and a questioning person becomes a problem person. Not surprising that if we get whacked on the nose with a newspaper enough times, we stop asking questions.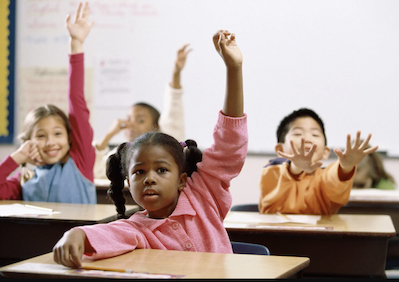 Unfortunately, this is the antithesis of growth and evolution, and just plain sad. This negative reaction to asking questions in effect trains us to make assumptions and projections, in place of those questions. When we don't clarify what's really going on, we start accepting the insulated version of our perception as reality. This means we miss a lot of what is actually real.

Inside Outside Your Side My Side
I'm partial to an Integral approach, as you're always asking questions; trying to establish how things interrelate from multiple perspectives. Seeing that reality is an incredibly complex, multi-faceted, holographic composition puts you in a delightfully exciting place of constant discovery and amazement.

Having a placeholder answer filling up the space pales by comparison. Being "right" or making yourself be right in your own mind doesn't win you anything except maybe a brief pause before needing to defend your assertion in the face of new information.

Let's put it another way. How many times have you felt like someone wasn't listening to what you were saying, because their mind was already made up and they weren't going to let you change it with new information?! What if you're doing that to yourself inside? Would you be willing to listen to another voice inside of you, with another possible reality to offer?

External Illusions of Internal Needs:
The Nine Mirages
Pondering the concept of chasing after what we think we need, I had an image of the water mirages we see sometimes on the highway. As we approach, the water seems to disappear and reappear further down the road. It looks real, but it isn't reality. Why and what we chase in life is very much like that mirage.

Some try to fix what's already perfect.
Some chase connection that was never lost.
Some chase symbols of worth, when worth is inherent.
Some mourn what's missing, when it's really inside.
Some seek knowledge to become what they already are.
Some seek the safety that their faith would give them.
Some chase a plan that's already in place.
Some press their will to be where they are.
Some seek externally the peace and love that actually resides within.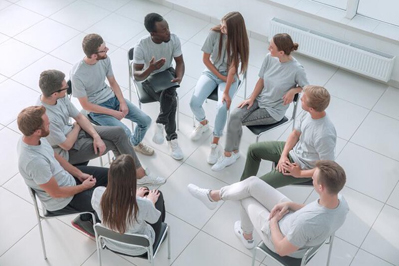 What they all have in common is chasing external illusions of what's within; ironically ignoring the very things we seek.

Exit Strategy
The only way to get off the "hamster wheel" is to recognize what we're doing (what are we really chasing) and re-examine our strategy. If we're putting so much energy into something that isn't real, (Futility's Chase) maybe we don't need to be so attached to it? How liberating would it be to dump that strategy, and develop one that brings a deeper, more sustainable sense of joy, well-being, and connection.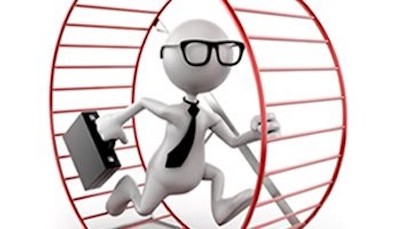 This is the magic of going from unconscious compulsion to conscious choice. When we really know what's driving us at our very core, we can consciously slide over to the driver's seat, and go where we choose, with direction, purpose, connection, and reality on our side.

Want to learn more about how to become the best you possible? How your communication can hold you back or catapult you forward? Come visit the web site, or better yet, contact me and see how we can design a program to fit your needs and desired outcomes.

- Ian J. Blei

****************

April No Fools Offer -
Remember those movies, "Limitless" and "Lucy?" They were based on a nonsense premise about how much of your brain you use. You use all of it, but how much wiring is connecting areas is up to you. So, maybe this is the month for you to start playing with your own version of "Limitless," and see how you can increase everything from your problem-solving skills and I.Q. to your emotional resilience.

I'm offering 3 complimentary Dynamic Discovery Sessions to the first 3 people (who haven't already worked with me) who email me this month's secret word: "Hippocampus"

No, this isn't a summer camp for hippos, but a seahorse-shaped organ in your brain that plays a starring role in learning. Grab a spot on the calendar, and don't worry about the 30 minute limit; I'll automatically extend it to an hour.
SCHEDULE

"He combines his extensive knowledge of integral theory, the Enneagram, and neuroscience, in a seamless way (truly a Grand Unifying Theory of Everything), and helps you apply this greater understanding to whatever matters to you. He helps you build the trellis which you can hang any flower on that you choose.." - P.R., - S.F.

Each session is normally a $250.00 value, and will be worth much more to you in life-changing ways. Good luck! Click to Schedule.




********************************

Resource Links:
- responsive code site
The Integram - the podcast series

Kind Ambition - 3rd Edition

****************
Subscribe to the Conscious Communication Chronicle
Welcome to the Conscious Communication Chronicle, sharing how Conscious Communication results in success, and how you can achieve yours. Enjoy!



The Optimizer
Ian Blei,
Director of the
Institute for Integral Enneagram Studies and
President of
Optimized Results
415.826.0478

Kind Ambition
Click HERE

Kind Ambition:
Practical Steps
to Achieve Success
Without Losing Your Soul

Kind Ambition
Fan Page on
FACEBOOK
Kind Ambition is about you having the tools to slide over to the driver's seat of your own life. Circumstances will always be changing, seemingly thwarting our plans, but we don't have to be thrown around by them. You can be in charge of your choices and actions more than you might imagine - yet.
Kind Ambition is written for you, as a practical guide you can use right now. It is a collection of insights and actions designed to help you move forward and get more out of your life at home and at work. The chapters hold to a formula of first giving you a new way to look at things, then offering you tangible Action Steps to try them out, and finally some things to notice when you do.
Kind words for "Kind Ambition"
"If you are interested in success, whether it is in running a large organization, a small business, or leading a satisfying life, you will find a right blend of rules, wisdom and wit in a digestible fashion that will serve to accomplish your objectives. The notion that kindness can be blended with ambition and made to work and serve the "bottom line" is enlightening, uplifting and satisfying."
-Steven Kiefel – CEO, Red Pill Media
"An easy to use guide for anyone who wants to achieve real growth and success. His sensible and practical tactics solve age-old challenges with real, how-to solutions. Best of all, Ian lives his work!"
-Romanus Wolter - Author: Kick Start Your Dream Business
Success Coach Columnist: Entrepreneur Magazine
Radio Host: Syndicated Kick Start Guy Segment
" We all face obstacles in our lives and careers. Some of these come from within, subverting our conscious intentions. The good news is: they can be overcome. The techniques and processes found in this book will help you on your way."
-Margaret Heffernan – Author: The Naked Truth: A Working Woman's
Manifesto on Business and What Really Matters
Syndicated Columnist: Fast Company Magazine
"A scientifically-based, spiritually-awake, (and smart and funny) guide to making the most of your life. Ian Blei provides the know-how, the inspiration, the structure and all the tools you need in this straightforward and inspirational book."
-Lisa Betts-LaCroix, Past President of SF Coaches
Star of Unapix film, "Dance Me Outside"
" Ian Blei shares his deep insights in simple and straightforward ways. His work continues to inspire me whenever I feel I'm getting stuck in some area of my life."
-Roy King, III , Director Pacific Development Partners